Table of Contents
Preface
Chapter 1—Introduction to Flight Training
Chapter 2—Ground Operations
Chapter 3—Basic Flight Maneuvers
Chapter 4—Slow Flight, Stalls, and Spins
Chapter 5—Takeoff and Departure Climbs
Chapter 6—Ground Reference Maneuvers
Chapter 7—Airport Traffic Patterns
Chapter 8—Approaches and Landings
Chapter 9—Performance Maneuvers
Chapter 10—Night Operations
Chapter 11—Transition to Complex Airplanes
Chapter 12—Transition to Multiengine Airplanes
Chapter 13—Transition to Tailwheel Airplanes
Chapter 14—Transition to Turbopropeller Powered Airplanes
Chapter 15—Transition to Jet Powered Airplanes
Chapter 16—Emergency Procedures
Glossary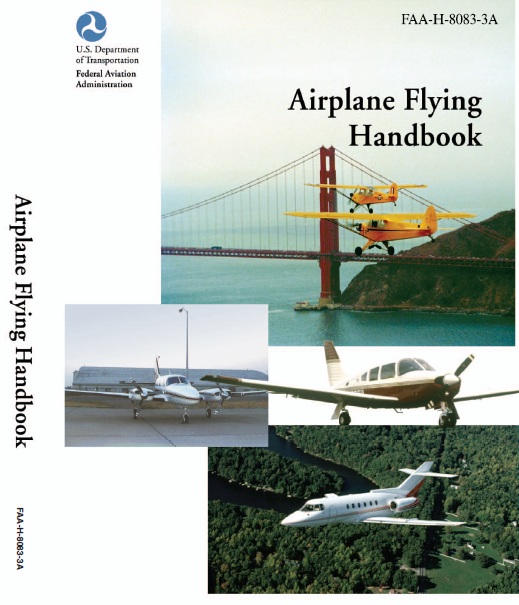 FAA-H-8083-3A FAA-H-8083-3A
Hosted by 12Charlie.com
AIRPLANE FLYING
HANDBOOK
2004
U.S. DEPARTMENT OF TRANSPORTATION
FEDERAL AVIATION ADMINISTRATION
Flight Standards Service

PREFACE
The Airplane Flying Handbook is designed as a technical manual to introduce basic pilot skills and knowledge that are essential for piloting airplanes. It provides information on transition to other airplanes and the operation of various airplane systems. It is developed by the Flight Standards Service, Airman Testing Standards Branch, in cooperation with various aviation educators and industry.
This handbook is developed to assist student pilots learning to fly airplanes. It is also beneficial to pilots who wish to improve their flying proficiency and aeronautical knowledge, those pilots preparing for additional certificates or ratings, and flight instructors engaged in the instruction of both student and certificated pilots. It introduces the future pilot to the realm of flight and provides information and guidance in the performance of procedures and maneuvers required for pilot certification. Topics such as navigation and communication, meteorology, use of flight information publications, regulations, and aeronautical decision making are available in other Federal Aviation Administration (FAA) publications.
This handbook conforms to pilot training and certification concepts established by the FAA. There are different ways of teaching, as well as performing flight procedures and maneuvers, and many variations in the explanations of aerodynamic theories and principles. This handbook adopts a selective method and concept of flying airplanes. The discussion and explanations reflect the most commonly used practices and principles. Occasionally the word "must" or similar language is used where the desired action is deemed critical. The use of such language is not intended to add to, interpret, or relieve a duty imposed by Title 14 of the Code of Federal Regulations (14 CFR).
It is essential for persons using this handbook to also become familiar with and apply the pertinent parts of 14 CFR and the Aeronautical Information Manual (AIM). The AIM is available online at http://www.faa.gov/atpubs. Performance standards for demonstrating competence required for pilot certification are prescribed in the appropriate airplane practical test standard.
The current Flight Standards Service airman training and testing material and subject matter knowledge codes for all airman certificates and ratings can be obtained from the Flight Standards Service Web site at http://av-info.faa.gov.
The FAA greatly acknowledges the valuable assistance provided by many individuals and organizations throughout the aviation community whose expertise contributed to the preparation of this handbook.
This handbook supersedes FAA-H-8083-3, Airplane Flying Handbook, dated 1999. This handbook also supersedes AC 61-9B, Pilot Transition Courses for Complex Single-Engine and Light Twin-Engine Airplanes, dated 1974; and related portions of AC 61-10A, Private and Commercial Pilots Refresher Courses, dated 1972. This revision expands all technical subject areas from the previous edition, FAA-H-8083-3. It also incorporates new areas of safety concerns and technical information not previously covered. The chapters covering transition to seaplanes and skiplanes have been removed. They will be incorporated into a new handbook (under development), FAA-H-8083-23, Seaplane, Skiplane and Float/Ski Equipped Helicopter Operations Handbook.
This handbook is available for download from the Flight Standards Service Web site at http://av-info.faa.gov. This web site also provides information about availablity of printed copies.
This handbook is published by the U.S. Department of Transportation, Federal Aviation Administration, Airman Testing Standards Branch, AFS-630, P.O. Box 25082, Oklahoma City, OK 73125. Comments regarding this handbook should be sent in e-mail form to AFS630comments@faa.gov.
AC 00-2, Advisory Circular Checklist, transmits the current status of FAA advisory circulars and other flight information publications. This checklist is available via the Internet at http://www.faa.gov/aba/html_policies/ac00_2.html.
---
CONTENTS
Purpose of Flight Training......................................1-1
Role of the FAA......................................................1-1
Role of the Pilot Examiner.....................................1-2
Role of the Flight Instructor...................................1-3
Sources of Flight Training.......................................1-3
Practical Test Standards........................................1-4
Flight Safety Practices...........................................1-4
Collision Avoidance.....................1-4
Runway Incursion Avoidance..................1-5
Stall Awareness.............................1-6
Use of Checklists...........................1-6
Positive Transfer of Controls............... 1-6
---
Visual Inspection ...........................2-1
Inside the Cockpit...........................2-2
Outer Wing Surfaces and Tail Section ........2-4
Fuel and Oil.................................2-5
Landing Gear, Tires, and Brakes..............2-6
Engine and Propeller ........................2-6
Cockpit Management...........................2-7
Ground Operations ...........................2-7
Engine Starting ............................2-7
Hand Propping................................2-8
Taxiing......................................2-9
Before Takeoff Check.........................2-11
After Landing ...............................2-11
Clear of Runway..............................2-11
Parking......................................2-11
Engine Shutdown..............................2-12
Postflight...................................2-12
Securing and Servicing.......................2-12
---
The Four Fundamentals...................................................3-1
Effects and Use of the Controls ........................................3-1
Feel of the Airplane ...................................................3-2
Attitude Flying.........................................................3-2
Integrated Flight Instruction...........................................3-3
Straight-and-Level Flight ..............................................3-4
Trim Control............................................................3-6
Level Turns.............................................................3-7
Climbs and Climbing Turns ..............................................3-13
Normal Climb............................................................3-13
Best Rate of Climb .....................................................3-13
Best Angle of Climb.....................................................3-13
Descents and Descending Turns...........................................3-15
Partial Power Descent ..................................................3-16
Descent at Minimum Safe Airspeed........................................3-16
Glides..................................................................3-16
Pitch and Power.........................................................3-19
---
Introduction ...................................................4-1
Slow Flight ....................................................4-1
Flight at Less than Cruise Airspeeds......................................4-1
Flight at Minimum Controllable Airspeed..............................4-1
Stalls ..............................................................4-3
Recognition of Stalls ................................4-3
Fundamentals of Stall Recovery ..............4-4
Use of Ailerons/Rudder in Stall Recovery .....................................4-5
Stall Characteristics..................................4-6
Approaches to Stalls (Imminent Stalls)—Power-On or Power-Off ......................4-6
Full Stalls Power-Off................................4-7
Full Stalls Power-On ................................4-8
Secondary Stall.........................................4-9
Accelerated Stalls .....................................4-9
Cross-Control Stall .................................4-10
Elevator Trim Stall .................................4-11
Spins ............................................................4-12
Spin Procedures......................................4-13
Entry Phase.........................................4-13
Incipient Phase....................................4-13
Developed Phase ................................4-14
Recovery Phase ..................................4-14
Intentional Spins..........................................4-15
Weight and Balance Requirements.........4-16
---
General...........................................................5-1
Terms and Definitions ...................................5-1
Prior to Takeoff..............................................5-2
Normal Takeoff..............................................5-2
Takeoff Roll..............................................5-2
Lift-Off .....................................................5-3
Initial Climb..............................................5-4
Crosswind Takeoff.........................................5-5
Takeoff Roll..............................................5-5
Lift-Off .....................................................5-6
Initial Climb..............................................5-6
Ground Effect on Takeoff..............................5-7
Short-Field Takeoff and Maximum Performance Climb.......................................5-8
Takeoff Roll..............................................5-9
Lift-Off .....................................................5-9
Initial Climb..............................................5-9
Soft/Rough-Field Takeoff and Climb..........5-10
Takeoff Roll............................................5-10
Lift-Off ...................................................5-10
Initial Climb............................................5-10
Rejected Takeoff/Engine Failure .................5-11
Noise Abatement..........................................5-11
---
Purpose and Scope.........................................6-1
Maneuvering By Reference to Ground Objects ........................................6-1
Drift and Ground Track Control....................6-2
Rectangular Course .......................................6-4
S-Turns Across a Road ..................................6-6
Turns Around a Point ....................................6-7
Elementary Eights .........................................6-9
Eights Along a Road.................................6-9
Eights Across a Road..............................6-11
Eights Around Pylons.............................6-11
Eights-On-Pylons (Pylon Eights) ...........6-12
---
Airport Traffic Patterns and Operations........7-1
Standard Airport Traffic Patterns ..................7-1
---
Normal Approach and Landing.....................8-1
Base Leg ...................................................8-1
Final Approach .........................................8-2
Use of Flaps..............................................8-3
Estimating Height and Movement............8-4
Roundout (Flare) ......................................8-5
Touchdown ...............................................8-6
After-Landing Roll ...................................8-7
Stabilized Approach Concept ...................8-7
Intentional Slips...........................................8-10
Go-Arounds (Rejected Landings)................8-11
Power ......................................................8-11
Attitude ...................................................8-12
Configuration..........................................8-12
Ground Effect ..............................................8-13
Crosswind Approach and Landing ..............8-13
Crosswind Final Approach .....................8-13
Crosswind Roundout (Flare) ..................8-15
Crosswind Touchdown ...........................8-15
Crosswind After-Landing Roll ...............8-15
Maximum Safe Crosswind Velocities .............................8-16
Turbulent Air Approach and Landing .........8-17
Short-Field Approach and Landing.............8-17
Soft-Field Approach and Landing...............8-19
Power-Off Accuracy Approaches ................8-21
90° Power-Off Approach........................8-21
180° Power-Off Approach......................8-23
360° Power-Off Approach......................8-24
Emergency Approaches and Landings (Simulated) .................................8-25
Faulty Approaches and Landings ................8-27
Low Final Approach...............................8-27
High Final Approach ..............................8-27
Slow Final Approach..............................8-28
Use of Power ..........................................8-28
High Roundout .......................................8-28
Late or Rapid Roundout .........................8-29
Floating During Roundout......................8-29
Ballooning During Roundout .................8-30
Bouncing During Touchdown ................8-30
Porpoising...............................................8-31
Wheelbarrowing .....................................8-32
Hard Landing..........................................8-32
Touchdown in a Drift or Crab ................8-32
Ground Loop ..........................................8-33
Wing Rising After Touchdown...............8-33
Hydroplaning...............................................8-34
Dynamic Hydroplaning ..........................8-34
Reverted Rubber Hydroplaning..............8-34
Viscous Hydroplaning ............................8-34
---
Performance Maneuvers................................9-1
Steep Turns ...............................................9-1
Steep Spiral...............................................9-3
Chandelle..................................................9-4
Lazy Eight ................................................9-6
---
Night Vision.................................................10-1
Night Illusions .............................................10-2
Pilot Equipment...........................................10-3
Airplane Equipment and Lighting...............10-3
Airport and Navigation Lighting Aids ........10-4
Preparation and Preflight.............................10-4
Starting, Taxiing, and Runup.......................10-5
Takeoff and Climb.......................................10-5
Orientation and Navigation .........................10-6
Approaches and Landings ...........................10-6
Night Emergencies ......................................10-8
---
High Performance and Complex Airplanes ..............................11-1
Wing Flaps...................................................11-1
Function of Flaps....................................11-1
Flap Effectiveness...................................11-2
Operational Procedures...........................11-2
Controllable-Pitch Propeller ........................11-3
Constant-Speed Propeller .......................11-4
Takeoff, Climb, and Cruise ....................11-4
Blade Angle Control ...............................11-5
Governing Range....................................11-5
Constant-Speed Propeller Operation ......11-5
Turbocharging..............................................11-7
Ground Boosting vs. Altitude Turbocharging..........................11-7
Operating Characteristics .......................11-8
Heat Management...................................11-8
Turbocharger Failure ..............................11-9
Overboost Condition...........................11-9
Low Manifold Pressure ......................11-9
Retractable Landing Gear............................11-9
Landing Gear Systems............................11-9
Controls and Position Indicators ..........11-10
Landing Gear Safety Devices...............11-10
Emergency Gear Extension Systems...............................11-10
Operational Procedures.........................11-12
Preflight ............................................11-12
Takeoff and Climb ............................11-13
Approach and Landing .....................11-13
Transition Training ....................................11-14
---
Multiengine Flight.......................................12-1
General.........................................................12-1
Terms and Definitions .................................12-1
Operation of Systems ..................................12-3
Propellers................................................12-3
Propeller Synchronization ......................12-5
Fuel Crossfeed........................................12-5
Combustion Heater.................................12-6
Flight Director / Autopilot......................12-6
Yaw Damper ...........................................12-6
Alternator / Generator ............................12-7
Nose Baggage Compartment..................12-7
Anti-Icing / Deicing................................12-7
Performance and Limitations ......................12-8
Weight and Balance...................................12-10
Ground Operation......................................12-12
Normal and Crosswind Takeoff and Climb....................................12-12
Level Off and Cruise .................................12-14
Normal Approach and Landing.................12-14
Crosswind Approach and Landing ............12-16
Short-Field Takeoff and Climb..................12-16
Short-Field Approach and Landing..............................................12-17
Go-Around.................................................12-17
Rejected Takeoff........................................12-18
Engine Failure After Lift-Off ....................12-18
Engine Failure During Flight ....................12-21
Engine Inoperative Approach Landing..............................................12-22
Engine Inoperative Flight Principles.........12-23
Slow Flight ................................................12-25
Stalls ..........................................................12-25
Power-Off Stalls (Approach and Landing) .....................12-26
Power-On Stalls (Takeoff and Departure) ......................12-26
Spin Awareness.....................................12-26
Engine Inoperative—Loss of Directional Control Demonstration..........12-27
Multiengine Training Considerations........12-31
---
Tailwheel Airplanes .....................................13-1
Landing Gear...............................................13-1
Taxiing .........................................................13-1
Normal Takeoff Roll....................................13-2
Takeoff.........................................................13-3
Crosswind Takeoff.......................................13-3
Short-Field Takeoff......................................13-3
Soft-Field Takeoff........................................13-4
Touchdown ..................................................13-4
After-Landing Roll ......................................13-4
Crosswind Landing......................................13-5
Crosswind After-Landing Roll ....................13-5
Wheel Landing ............................................13-6
Short-Field Landing.....................................13-6
Soft-Field Landing.......................................13-6
Ground Loop ...............................................13-6
---
General.........................................................14-1
The Gas Turbine Engine..............................14-1
Turboprop Engines ......................................14-2
Turboprop Engine Types .............................14-3
Fixed Shaft..............................................14-3
Split-Shaft / Free Turbine Engine ..........14-5
Reverse Thrust and Beta Range Operations...............................14-7
Turboprop Airplane Electrical Systems ......................................14-8
Operational Considerations .......................14-10
Training Considerations ............................14-12
---
General.........................................................15-1
Jet Engine Basics.........................................15-1
Operating the Jet Engine .............................15-2
Jet Engine Ignition..................................15-3
Continuous Ignition................................15-3
Fuel Heaters............................................15-3
Setting Power..........................................15-4
Thrust to Thrust Lever Relationship ......15-4
Variation of Thrust with RPM................15-4
Slow Acceleration of the Jet Engine ......15-4
Jet Engine Efficiency...................................15-5
Absence of Propeller Effect ........................15-5
Absence of Propeller Slipstream .................15-5
Absence of Propeller Drag ..........................15-6
Speed Margins .............................................15-6
Recovery from Overspeed Conditions ........15-8
Mach Buffet Boundaries..............................15-8
Low Speed Flight ......................................15-10
Stalls ..........................................................15-10
Drag Devices .............................................15-13
Thrust Reversers........................................15-14
Pilot Sensations in Jet Flying ....................15-15
Jet Airplane Takeoff and Climb.................15-16
V-Speeds ...............................................15-16
Pre-Takeoff Procedures ........................15-16
Takeoff Roll..........................................15-17
Rotation and Lift-Off............................15-18
Initial Climb..........................................15-18
Jet Airplane Approach and Landing..........15-19
Landing Requirements..........................15-19
Landing Speeds ....................................15-19
Significant Differences.........................15-20
The Stabilized Approach ......................15-21
Approach Speed....................................15-21
Glidepath Control .................................15-22
The Flare...............................................15-22
Touchdown and Rollout .......................15-24
---
Emergency Situations..................................16-1
Emergency Landings ...................................16-1
Types of Emergency Landings...............16-1
Psychological Hazards............................16-1
Basic Safety Concepts.................................16-2
General....................................................16-2
Attitude and Sink Rate Control ..............16-3
Terrain Selection.....................................16-3
Airplane Configuration...........................16-3
Approach ................................................16-4
Terrain Types ...............................................16-4
Confined Areas .......................................16-4
Trees (Forest)..........................................16-4
Water (Ditching) and Snow....................16-4
Engine Failure After Takeoff (Single-Engine)...........................................16-5
Emergency Descents ...................................16-6
In-Flight Fire ...............................................16-7
Engine Fire .............................................16-7
Electrical Fires........................................16-7
Cabin Fire ...............................................16-8
Flight Control Malfunction / Failure...........16-8
Total Flap Failure ...................................16-8
Asymmetric (Split) Flap.........................16-8
Loss of Elevator Control ........................16-9
Landing Gear Malfunction ..........................16-9
Systems Malfunctions ...............................16-10
Electrical System..................................16-10
Pitot-Static System ...............................16-11
Abnormal Engine Instrument Indications ..............................16-11
Door Opening In Flight.............................16-12
Inadvertent VFR Flight Into IMC .............16-12
General..................................................16-12
Recognition...........................................16-14
Maintaining Airplane Control ..............16-14
Attitude Control....................................16-14
Turns.....................................................16-15
Climbs...................................................16-15
Descents................................................16-16
Combined Maneuvers...........................16-16
Transition to Visual Flight....................16-16
Glossary .......................................................G-1
---