ROLE OF THE FAA
The Federal Aviation Administration (FAA) is empowered by the U.S. Congress to promote aviation safety by prescribing safety standards for civil aviation. This is accomplished through the Code of Federal Regulations (CFRs) formerly referred to as Federal Aviation Regulations (FARs).
Title 14 of the Code of Federal Regulations (14 CFR) part 61 pertains to the certification of pilots, flight instructors, and ground instructors. 14 CFR part 61 prescribes the eligibility, aeronautical knowledge, flight proficiency, and training and testing requirements for each type of pilot certificate issued.
14 CFR part 67 prescribes the medical standards and certification procedures for issuing medical certificates for airmen and for remaining eligible for a medical certificate.
14 CFR part 91 contains general operating and flight rules. The section is broad in scope and provides general guidance in the areas of general flight rules, visual flight rules (VFR), instrument flight rules (IFR), aircraft maintenance, and preventive maintenance and alterations.
Within the FAA, the Flight Standards Service sets the aviation standards for airmen and aircraft operations in the United States and for American airmen and aircraft around the world. The FAA Flight Standards Service is headquartered in Washington, D.C., and is broadly organized into divisions based on work function (Air Transportation, Aircraft Maintenance, Technical Programs, a Regulatory Support Division based in Oklahoma City, OK, and a General Aviation and Commercial Division). Regional Flight Standards division managers, one at each of the FAA's nine regional offices, coordinate Flight Standards activities within their respective regions.
The interface between the FAA Flight Standards Service and the aviation community/general public is the local Flight Standards District Office (FSDO). [Figure 1-1] The approximately 90 FSDOs are strategically located across the United States, each office having jurisdiction over a specific geographic area. The individual FSDO is responsible for all air activity occurring within its geographic boundaries. In addition to accident investigation and the enforcement of aviation regulations, the individual FSDO is responsible for the certification and surveillance of air carriers, air operators, flight schools/training centers, and airmen including pilots and flight instructors.
Each FSDO is staffed by aviation safety inspectors whose specialties include operations, maintenance, and avionics. General aviation operations inspectors are highly qualified and experienced aviators. Once accepted for the position, an inspector must satisfactorily complete a course of indoctrination training conducted at the FAA Academy, which includes airman evaluation and pilot testing techniques and procedures. Thereafter, the inspector must complete recurrent training on a regular basis. Among other duties, the FSDO inspector is responsible for administering FAA practical tests for pilot and flight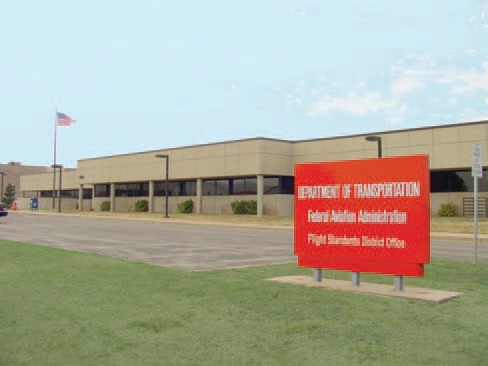 Figure 1-1. FAA FSDO.
instructor certificates and associated ratings. All questions concerning pilot certification (and/or requests for other aviation information or services) should be directed to the FSDO having jurisdiction in the particular geographic area. FSDO telephone numbers are listed in the blue pages of the telephone directory under United States Government offices, Department of Transportation, Federal Aviation Administration.
Ch 01.qxd 5/6/04 11:25 AM Page 1-2
Previous |
Next